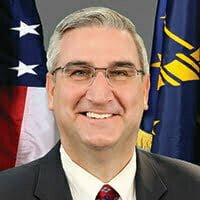 More than 100 businesses around Indiana were honored by officials for their longevity, keeping Hoosiers employed and for their contributions to building a strong state economy.
Gov. Eric Holcomb on June 16 honored 101 Indiana companies and organizations for their longevity and service to its employees, community. Organizations operating at 100 continuous years or more received the Governor's Century Award, while those operating 50 continuous years but less than 100, received the Governor's Half Century Award.
"I'm honored to recognize these dedicated, Hoosier business leaders who have created a lasting impact not only on their communities but to the state as a whole," Holcomb said. "As we continue to attract new jobs and investment to Indiana, these well-established businesses will set the tone for a Hoosier economy dedicated to hard work, constant improvement and strong community root (and) I'm confident these businesses will continue providing great service for the next 100 years and keep Indiana on the path to success for centuries to come."
The Governor's Century and Half Century Business Awards honor Hoosier businesses that have remained in operation for a minimum of 100 or 50 consecutive years and have demonstrated a commitment to community service. More than 1,160 Indiana companies have been recognized during the award's 30-year history.
The complete list can be viewed on the Indiana Economic Development Corp. website.
Northwest and Northcentral Indiana 2021 Century Award honorees:
Alex's Shoe Hospital (Retail), 102 years; St. Joseph County
Big C Lumber Co. (Supplies), 100 years; St. Joseph County
Budd The Furnace Man & Sons Inc. (Trade), 100 years; Lake County
Calumet Lumber Inc. (Supplies/Trade), 115 years; Lake County
Elkhart Bedding Co. Inc. (Retail), 102 years; Elkhart County
Indiana Botanic Gardens Inc. (Retail), 111 years; Lake County
Koney King Restaurant (Food service), 101 years; Lake County
Performance Plus (Trade), 104 years; Lake County
Urschel Laboratories Inc. (Food processing), 111 years; Porter County
Walley-Mills-Zimmerman Funeral Home (Funeral services), 152 years; Elkhart County
Northwest and Northcentral Indiana 2021 Half Century Award honorees:
American Containers (Manufacturing), 56 years; Marshall County
Ball Auction & Realty Inc. (Real estate), 52 years; Marshall County
Baptist Children's Home (Health and human services), 66 years; Porter County
Belstra Milling Co. (Livestock retail), 67 years; Jasper County
Biesen Excavating Inc. (Trade), 67 years; Lake County
Boy-Conn Printers (Retail), 58 years; Porter County
Broadway Auto Parts (Retail), 87 years; Lake County
Campagna Academy (Health and human services), 74 years; Lake County
C&C Iron Inc. (Construction), 56 years; Lake County
Dari-Dip (Food service), 53 years; Porter County
Freddy's Steak House (Food service), 58 years; Lake County
Highwater Marine, LLC (Manufacturing), 63 years; Elkhart County
Hatfield Pest Control (Trade), 77 years; La Porte County
International Union of Operating Engineers, Local 150 (Union), 92 years; Lake County
Jasper County Airport Authority (Transportation), 88 years; Jasper County
John Cicco's Menswear, Inc. (Trade), 69 years; Lake County
Leeps Supply (Wholesale), 67 years; Lake County
MC Interiors (Retail/Trade), 71 years; La Porte County
Oliver Ford Sales Inc. (Automotive sales & service), 66 years; Marshall County
T&R of Griffith Inc. (Automotive repair), 84 years; Lake County
Powers & Sons Construction Company Inc. (Construction), 54 years; Lake County
Ritschard Bros. Inc. (Trade), 74 years; St. Joseph County
Rothschild Agency Inc. (Insurance), 77 years; Lake County
Samuelson Insurance Agency Inc. (Insurance), 95 years; Porter County
Sanders Indiana Hardware Inc. (Retail), 70 years; Porter County
State Line Pizza (Food service), 64 years; Lake County