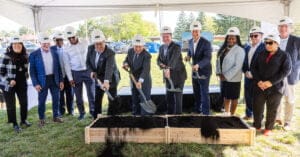 Michigan City kicked off construction of a new 628,000-square-foot mixed-use development Friday with a groundbreaking event downtown.
The SoLa Development will feature two boutique hotels, places to live, and food and beverage locations near the beach, zoo and Washington Park.
The development will create an estimated $680 million in economic impact in its first 15 years. SoLa is expected to open in spring 2026.
SoLa is the largest development in the Michigan City Transit Oriented Development District.
"When we set out to design the SoLa Development, we knew it had to be beautiful and state-of-the-art, reflecting the natural beauty of the lakeshore as well as the innovative nature of Michigan City itself," said real estate entrepreneur Barry Schain. "With the South Shore Line's double-track express line directly connecting Michigan City to Chicago, there is no better time to bring to life a development like SoLa that will benefit all who enjoy it."
SoLa is named for its location south of Lake Michigan.
YAB Development Partners will oversee the project. The group was formed by: Decennial Group Co-Founder and Managing Principal Scott Goodman; Indiana attorney and tech-entrepreneur Tom Dakich; Schain; real estate developers Rob Harte and Alan Schachtman; and hotel consultants Elliott Estes and Michael Blank.
SoLa will be home to TRYP by Wyndham and Trademark Collection by Wyndham hotels, luxury residences, restaurants, retail spaces and outdoor areas.
The hotels will include 14 stories and 225 rooms. A 15,000-square-foot, resort-style swimming pool will be a key amenity.
Residences will feature a 14-story condominium tower with 164 units that are primarily two and three bedrooms, while 17 duplex-style townhomes will be built on the lake side. Residents will have access to the hotel amenities.
The fourth floor will offer the "crown jewel" of the development: a four-season space that will offer views of the harbor and Lake Michigan. The hotel also will feature a rooftop lounge and restaurant.
Parking won't be a problem with a 396-space parking garage that is out of view.
"SoLa will be unlike anything else on the market. The opportunity to purchase a condo or townhome, paired with the amenities and services of a luxury branded hotel like Wyndham, is really special," said Kacia Snyder, exclusive listing agent at Jameson Sotheby's International Realty. "Our structured short-term rental program gives owners even more flexibility with their investment and capitalizes on SoLa's unique location less than an hour from Chicago and just steps from the beach and National Park. Its' no surprise that the initial interest has been so overwhelming."
The developers expect the hotels to book about 100,000 guests each year, generating more than $10 million annually from visitors and the places they visit. The 800 new jobs, including 292 permanent ones, will create an estimated $18.4 million in annual gross wages earned.
"When Gov. Holcomb and Bill Hanna envisioned doubletracking, this type of investment was the goal," Goodman said. "From Chicago to Southwest Michigan, travelers from all over love coming to the beautiful South Shore of Lake Michigan. SoLa gives people a place to visit and live in Michigan City, taking advantage of all the nearby national and state parks, beautiful beaches and proximity to so many activities that make the area so desirable."
Clarence Hulse, executive director of the Economic Development Corp. of Michigan City, agreed that the development will transform the city.
"As our city leaders look toward how people want to live, work, play and visit Michigan City, we are embracing spaces that have a multitude of amenities and offerings available to bring our friends, families and neighbors together to enjoy the natural resources here in our corner of the world," said Clarence Hulse, executive director, Economic Development Corp. of Michigan City. "We will continue to enthusiastically pursue these types of projects, concepts and ideas that will unite artistic elements, natural beauty and vibrant spaces to allow us to spend time together in new and meaningful ways."
YAB Development Partners was founded in 2021 to develop and manage SoLa.