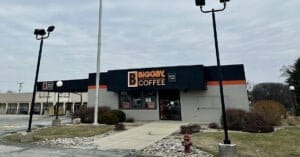 U.S. Army National Guard veteran Nicholas Novak says he is answering the call from St. John residents for more coffee options in the town. So, he is opening a Biggby Coffee there May 2.
"Several years ago, the city created a comprehensive growth plan, and one of the features requested by the population were more coffee shops," Novak said.
He and his wife, Mary, discovered a vacant property at 9151 Wicker Ave. that used to be a bank and thought it would be a perfect location for a Biggby. They recently discovered the brand at another location.
"During our buildout, I had the honor to really get to know many of the citizens of St. John," said Novak, who also is a former law enforcement officer. "It was a real opportunity to understand just how deep the love for our product and service runs."
That kind of community involvement is a big part of the Biggby moto, "B involved."
"Return on involvement — it's a big deal, and it always comes back in droves," said Mike McFall, co-CEO of Biggby on the company's website. "It reminds me of the early days at the original store. There were 35 coffee shops already in the area, and it was a tough first couple of years, but there were a lot of people in the community pulling for us."
Novak said that mindset is what partly drew him to the company.
"I sum Biggby Coffee up with a simple phrase: Biggby Coffee exists to support you in living a life you love," he said.
Novak also said his military experience has been a big help in the process of opening a franchise.
"A phrase I learned during my time in the military is 'The standard, is just the standard,'" he said. "This phrase reminds me of several things. The first is that there is a standard, and anything less is a failure to meet expectations."
He said Biggby's standard is to consistently produce a high-quality cup of coffee, and he plans to exceed that.
"We recognize that there is room to grow, and can really focus on exceeding the standard and expectations of our customers," he said.
Tara Walston, Biggby's area representative for Northwest Indiana and southwest Michigan, said every owner is invested in their communities.
"There's a thing that happens when a coffee shop does what it's supposed to do: bring people together, make people's lives brighter every day, participate in community events, and serve products that are exceptional, delicious, and affordable — they become profitable," Walston said.
Biggby also is committed to helping nonprofits, so $1 from every cup served at the St. John location's opening will go to Northwest Indiana Cancer
Kids Foundation.
East Lansing, Michigan-based Biggby plans to add more than 20 stores during the next three years in La Porte, Porter and Lake counties. It has a location at 9751 Lincoln Plaza Way in Cedar Lake. There are 23 locations in Indiana.
The company started in 1995 and began franchising a year later. It now has 230 stores in nine states, including Michigan, Ohio, Indiana, Illinois, South Carolina, Wisconsin, Kentucky, Florida and Texas.