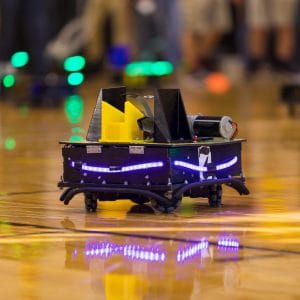 Valparaiso University is the 2022 champion of the Collegiate Robotic Football Conference.
The conference championship, which features college teams from around the Midwest, was hosted at St. Mary's College. It's Valparaiso's third championship since joining the league in 2015.
"I feel great about the win," said Caleb Mandile, a first-year member of the team. "I am excited to see what the team can do next year."
In addition to winning the championship, the team took third place in the Robotic Football combine, an event which tests the strength, speed, maneuverability and durability of their machines.
The Valparaiso Robotic Football program is open to students of all majors with an interest in learning the ins and outs of robotics and is part of the larger Valparaiso Robotics team. In addition to football, the team competes in the annual Midwest Robotic Design Competition and works with local schools and businesses to spread the passion for robotics and engineering.
Robotic football is similar to the popular American sport with a few variations. While touchdowns, two-point conversions and field goals score the same number of points, additional points are awarded for successfully thrown and caught passes.
The game also consists of eight machines on each side, playing on a 30-yard field.