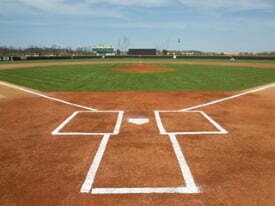 Valparaiso University's plan to update its baseball field received a $550,000 boost from alumni and other college supporters.
The college in a statement said the funds to update Emory G. Bauer Field, where the university's baseball team has played since the 1970 season, will be used to install synthetic turf on the infield and down the foul lines. The overall project will be completed in two phases and when finished university officials say it will transform it "into a quality Missouri Valley Conference facility."
Major contributors include Valparaiso alumni Lynn Scheutzow Young and Carl Young and the Deetjen family. The Young and Deetjen families both had sons who played baseball at Valparaiso.
"Everyone associated with the Valpo baseball program is so grateful to the Young and Deetjen families," said Brian Schmack, head baseball coach. "As we have competed across the Missouri Valley the past two years, it became apparent that our facility was placing our players and recruiting efforts at a disadvantage."
Schmack said the renovation will demonstrate to players, recruits, alumni, and the community that baseball matters at Valparaiso University, which has fielded teams since 1917.
The renovation is scheduled to be completed in two phases, with a timeline driven by fundraising, the college said. In addition to the new turf, additional phase one updates include: new grandstands, visiting dugout and press box, as well as advanced technology that will allow umpire replays, web-streamed broadcasts and improved press box and fan experience.
Phase two of the stadium renovation includes the addition of lights, which will allow for playing evening and late afternoon games, a new outfield wall, concession stand and improved parking, landscaping and fencing.
Lynn and Carl Young are longtime supporters of the college. Carl Young served on the college's board of directors and on the leadership team for the Our Valpo, Our Time fundraising campaign from 2004 to 2009. He graduated with a bachelor's degree in accounting and recently retired as chief financial officer of Kenan Advantage Group, an oil and gas trucking company he co-founded in 1991.
Lynn Young earned a bachelor's degree in social work.
"Lynn and I are blessed to be in a position to support the Bauer Field project," said Carl Young. "Valpo has been a big part of our family for many years, and we are excited about the chance to give back to the university."