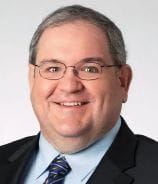 Doug Tougaw, dean of the Valparaiso University College of Engineering, was elected president of the American Society for Engineering Education.
"I'm incredibly grateful for the opportunity to continue to serve ASEE in this new role," Tougaw said. "I look forward to helping ASEE to expand both the size and diversity of their membership."
Tougaw was named dean of the college of engineering earlier this year. He received his bachelor's degree at the Rose-Hulman Institute of Technology, a master's degree from Valparaiso University, a master's in science and doctorate from the University of Notre Dame and a second master's degree from North Park University.
His research and interests have included quantum electronics, embedded microcontrollers and electromagnetic field theory.
ASEE is a nonprofit organization of individuals and institutions that look to further engineering and engineering technology education by promoting worldwide leadership, fostering the technological education of society and promoting excellence in instruction, research, public service and practice. The ASEE has more than 12,000 deans, department heads, faculty members, students and government and industry representatives from all disciplines of the engineering field.