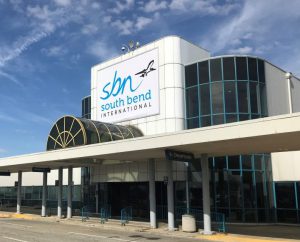 More flights have led to more passengers using South Bend International Airport.
"We are on track to serve more than 800,000 air passengers this year," said Mike Daigle, the airport's executive director. "Because more and more business and leisure travelers are choosing to fly from South Bend, the airlines have responded by adding additional seats and a new route."
With more people flying out of South Bend, the airport is actively working to add more spaces for extend parking as well as rental vehicles.
Work is underway on the southwest corner of the airport property to expand parking. Phase one of the parking lot expansion project is scheduled for completion just before Thanksgiving and includes 249 new parking spaces in the long-term parking lot along with rerouting Progress Drive.
The parking expansion project also includes the addition of a traffic circle north of the La Quinta Inn & Suites by Wyndham South Bend at Old Lincolnway West. The west side entrance to the long-term lot will be relocated south, while the parking lot exit will remain unchanged.
Additional signage, security cameras, lighting, and new emergency call boxes will be installed within the parking lot.
Phase two of the project will take place in the spring and includes reconstruction and expansion of the rental car lot. The lot will expand from 220 to 486 spaces, airport officials said.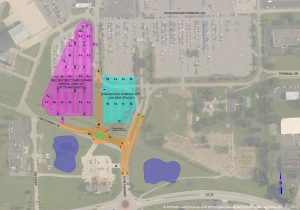 Renovations also are happening Inside the terminal. The tile floor from the atrium east of the Delta Air Lines ticket counter through baggage claim will be replaced with terrazzo, which is being covered by a $138,500 grant from Visit South Bend Mishawaka.
United Airlines, one of four passenger carriers serving South Bend airport, recently began offering seasonal service to New York/Newark Liberty International Airport. That service will continue though Dec. 3.
United's additional route followed Allegiant Air's addition of a seasonal non-stop service from South Bend to Sarasota, Fla. That service begins Nov. 25 and continues through early spring.
South Bend International Airport's other carriers include American Airlines and Delta. A total of 368,877 passengers boarded flights at the South Bend International Airport in 2018, up from 305,491 in 2017.