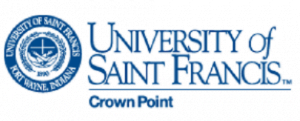 CROWN POINT – Julie Gardner, assistant professor of biology at the University of Saint Francis – Crown Point, recently was named to the 2018 American Society for Clinical Pathology's 40 Under Forty list.
Gardner also is the director of USF Crown Point's Medical Laboratory Technician program.
ASCP's 40 Under Forty program spotlights 40 accomplished pathologists, pathology residents and laboratory professionals under age 40 who have made significant contributions to the profession and stand out as the future of laboratory leadership.
The 2018 ASCP 40 Under Forty applicants were asked to submit resumes and answer questions about how they see themselves as innovators in healthcare, or how they are contributing to leading innovations within the profession. A committee of ASCP pathologist, laboratory professional and resident members evaluated candidates based on their accomplishments, experience, leadership skills and their dedication to innovation in the field of laboratory medicine and pathology.
This year's 40 Under Forty honorees will participate in the new Career Ambassadors 2.0 or Pathology Ambassadors programs.
University of Saint Francis Crown Point is a regional campus of the University of Saint Francis in Fort Wayne.