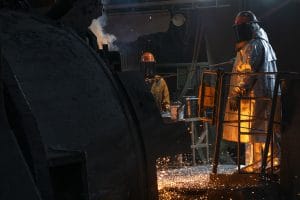 The United Steel Corp. restarted Gary Works' No. 8 blast furnace in early March after optimistic first quarter projections.
U. S. Steel President and Chief Executive Officer David Burritt said the momentum is growing in North America for flat-ironed steel, leading to a positive outlook on the year.
"Strong safety and operating performance, improving order entry and our continued focus on winning share in strategic markets are resulting in better-than-expected first quarter guidance," Burritt said in a press release. "We expect these trends to continue into the second quarter given extending lead times and the flow-through of higher selling prices."
He also said the Gary pig iron project already is adding value to "the mini mill segment's normalizing cost structure." He said the pig iron machine there was completed ahead of schedule and within budget.
According to S&P Global's commodity insights, most mills are charging $1,150 to $1,200 a square feet for hot hot-rolled steel, and increasing prices by 5% for flat-rolled steel.
Burritt said in February that the company had its second-best year financially.
"2022 was another exceptional year for U.S. Steel, marking our second-best financial performance in the company's history," he said in a press release. "Our fourth quarter results exceeded our guidance expectations."
Gary Works did expect to lay off hundreds of its tin workers starting at the end of February due to market trends.
Founded in 1901, U.S. Steel has the capability of making 22.4 million net tons of raw steel a year.