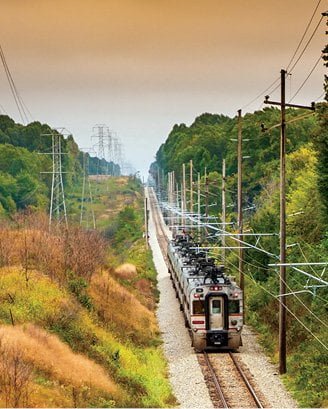 Funding for improvements to the South Shore Line received a boost from the U.S. Department of Transportation on Dec. 22. The Build America Bureau approved a $27.5 million Railroad Rehabilitation and Improvement Financing loan.
The loan will go toward part of the $649 million Double Track Northwest Indiana project, which is improving a 26.6-mile stretch of the South Shore Line between Gary and Michigan City.
"We are pleased to help finance the double-track project, which will increase safety, reliability and cut travel time by one-third for commuters from Michigan City to Chicago," said Deputy Transportation Secretary Polly Trottenberg in a department press release. "This project will deliver improved trip options, taking vehicles off the road and reducing harmful greenhouse gas emissions."
The project includes about 18 miles of double track, upgrades to five stations, the elimination of 13 train-road crossings and the addition of 1,475 parking spaces, along with the installation of power stations. Other crossings will be improved with new warning systems.
"The South Shore Line upgrades will not only benefit commuters but the entire Region as transit-oriented development is induced and new jobs are created," said Morteza Farajian, Build America Bureau executive director, in the release. "Eliminating shared use of the single track and the road/train crossings greatly enhances safety for riders and drivers."
The bureau provides low-cost, long-term loans to help communities finance infrastructure projects.
This RRIF loan complements another loan earlier this year for $203.3 million for the West Lake Corridor Project to extend an 8-mile stretch of the South Shore Line between Dyer and Hammond. Financing for the project also includes a Department of Transportation grant with the Northern Indiana Commuter Transportation District for $354.6 million through the Federal Transit Administration's Capital Investments Program.
The double-track project, which is already under construction, is expected to be completed by the end of 2024.
Among on-going construction at several locations, work is underway in the Gary-Miller station area on the new east and west lots. Construction on the new Miller station began in August and will continue till 2023. Construction will begin in January on the Portage-Ogden Dunes platform and should be complete by winter 2023. Find further updates here.
The South Shore Line project has caused many changes to the busing schedule. Find an updated list here.
The South Shore Line adopted a 20-year strategic plan in 2014, which proposed improvements to the 25-mile stretch through Lake, Porter and La Porte counties. According to the South Shore Line website, the second track will allow 14 more trains per week day. It also will reduce the commute from Michigan City to Chicago from 1 hour and 40 minutes to 67 minutes by express train.