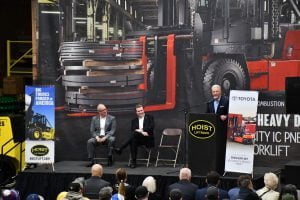 Other than a new name, it should be business as usual at East Chicago-based Hoist Liftruck.
Toyota Industries North America announced Feb. 13 it had entered a definitive agreement on Feb. 8 to purchase Hoist Liftruck Mfg. LLC, and change the name to Hoist Material Handling Inc.
In a statement, Marty Flaska, founder of Hoist, said he is retiring from the business and no longer will be involved with the company.
"We're proud of what we've accomplished in building a terrific brand and quality products," Flaska said in a statement on the company's website. "It's an honor to hand it off to the industry leader Toyota."
Toyota already had a manufacturing relationship with Hoist, which was producing large capacity forklifts under the THD brand since 2015.
Hoist Material Handling will be led by Vice President and General Manager Dan Kossow; Vice President of Engineering Bob Miller; Vice President of Sales Stu Jacover; and Vice President of Operations Ryan Delaney. Delaney, who spent the last six years as director of quality for the Raymond Corp., will join Hoist Material Handling in East Chicago reporting to Tony Miller, senior vice president of operations and engineering for Toyota Industrial Equipment Manufacturing.
"This is the perfect next step in the expansion of our Toyota Heavy Duty (THD) line," Jeff Rufener, president of Toyota Material Handling USA, said in a statement. "Hoist has been a great manufacturer of heavy-duty equipment for years and brings a group of passionate, talented associates that will help us in our role as a full-line equipment supplier. We are excited about the future of Hoist Material Handling."
Hoist occupies a 550,000-square-foot factory in East Chicago. The company has nearly 25 years of experience manufacturing heavy-duty cushion tire and pneumatic forklifts, reach stackers, container handlers, and more, ranging in lift capacity from seven to 57 tons.