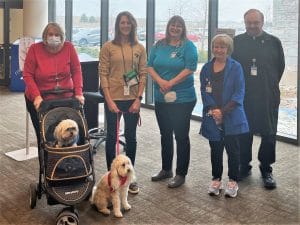 Therapy dogs are back at Franciscan Health Munster.
Visitor restrictions during the pandemic stopped the visits but the program has been reinstated with conditions subsiding.
Maggie, with her handlers Becky and Mike Buchanan, and Ruger, handled by Jackie LaMantia were first to arrive and provide comfort to patients on March 30. Visits will continue during future Wednesdays at the hospital.
"The patients' reaction was wonderful, and the staff was really excited to see us," said Julie Canady, pet therapy program coordinator and administrative assistant in the Franciscan Alliance marketing department, who also participates with her therapy dog, Meiko. "We had nothing but smiles."
Rev. Francis S. Tebbe, director of mission services at Franciscan Health Dyer, Hammond and Munster said everyone enjoyed the visit.
"(It was their) first time (back) since March 2020," Tebbe said.
All dogs participating in Franciscan Health's pet therapy program are certified by Therapy Dogs International or Alliance of Therapy Dogs.
Editor's Note: This story has been updated from its previous published version with new information.