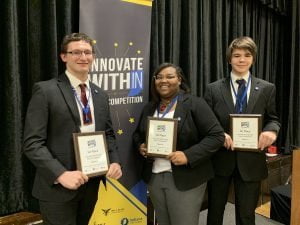 Hoosier students interested in starting their own businesses or have an idea for a great product may want to take part in the 2020 Innovate WithIN pitch competition.
Applications for the 2020 competition, a statewide initiative hosted by the Indiana Economic Development Corp., Indiana Department of Education, Ball State University and STARTedUP Foundation, are open to high school students across Indiana.
Student teams are invited to submit video pitches online before Feb. 7, and middle school students interested in entrepreneurship are invited to register for workshops offered at the regional competitions in early 2020.
"Competitions like Innovate WithIN not only grow Indiana's culture of innovation, but also empower our students to cultivate their entrepreneurial ideas in the classroom," Gov. Eric J. Holcomb said. "Through its unique partnership, Innovate WithIN is encouraging young Hoosiers to hone their creativity and critical thinking skills to come up with innovative solutions to 21st century problems."
Hobart High School students Andrew Romes, Faith Spencer and Alex Termini, took third place in the 2019 Innovate WithIN pitch competition. Their idea called RearVue, would improve bicycle safety through a distance measurement sensor, which harnesses LED technology to warn cyclists of approaching vehicles.
Innovate WithIN, which is in its third year, gives Hoosier students the opportunity to create their own business plans and showcase entrepreneurial ideas throughout the state. The overall winners of the state competition will each receive a $10,000 cash prize, $10,000 toward one year of in-state tuition, internship opportunities and mentoring services.
The competition takes place over three rounds:
Participants are invited to work individually or in small groups to submit an innovative idea for a business, product, service or venture. Students will then receive feedback from experienced professionals while competing against like-minded youth from across Indiana through three rounds:
Round One: Video pitch submissions due Feb. 7
Round Two: Regional pitch competitions hosted from March 2 to March 13
Final Round: State pitch competition for regional finalists hosted in April
Finalists from each region will be invited to Indianapolis for the final round of the competition, pitching their ideas to a panel of judges from Indiana's entrepreneurial community. In 2019, Innovate WithIN™ drew 158 online applications from 422 Hoosier students at 88 high schools.
Submit applications and learn more about the program at InnovateWithIN.org.