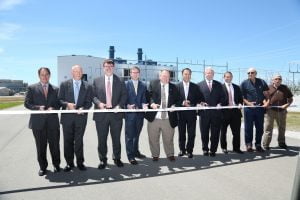 NEW CARLISLE – State and local officials on June 13 dedicated the new Phase I St. Joseph Energy Center natural gas fueled power generating plant at 54745 Walnut Road in New Carlisle.
Representatives of the plant's ownership group, Ares EIF Group and Toyota Tsusho, also were on hand to formally mark the plant's opening.
The plant is about 15 miles west of South Bend. It began generating power in April and can produce 700 megawatts of electricity, which is enough energy to serve 500,000 homes, plant representatives said.  
The first phase of the St. Joseph Energy Center project, which represents about $700 million in investment, took about six years to complete from planning to construction, according to plant representatives. Energy generated by the plant is delivered into the nation's power grid through PJM Interconnection, a regional transmission organization, which serves 13 states in the northeastern U.S., Washington, D.C., northern Indiana and southern Michigan.
Representatives for the plant said the project did not receive any assistance from tax incremental financing or any state tax benefits. The plant's developers paid for installation of three miles of sewer line to the city of South Bend and built a $10 million water treatment plant, which was given to the town of New Carlisle.
The construction phase of the project, which lasted about two years, created nearly 700 construction jobs. The plant today employs 21 people with average annual salaries of $92,000, according to plant representatives.
The St. Joseph Energy Center project consists of two phases. The second part also involves construction of a 700-megawatt natural gas fueled power plant, which still is in the planning and development stage, according to company representatives.
The plant is owned by Ares EIF Group, a New York-based investment organization, and Toyota Tshusho, part of the Toyota group of companies, which operates in several business segments including energy plant development.