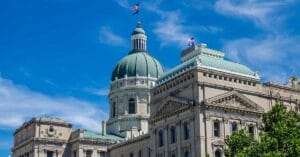 The Indiana House of Representatives passed Senate Bill 434 that would allow for a Lake County convention center and a metro center station fund in Gary.
The bill passed 89 to 6 Thursday after a third reading. It returns to the Senate with amendments. The Senate passed an earlier version of the bill Feb. 28 with 48 "yes" votes.
"Senate Bill 434 will have a transformative impact on economic development in Gary, Lake County and the State of Indiana, and I'm excited to see it continue to garner support," said State Sen. Eddie Melton (D-Gary) in a press release. "As it stands, this bill will address the elimination of community blight, support the renovation of our downtown metro station and generate an overall economic boom by permitting the creation of a convention center."
A reserve fund would be established where proceeds from an increase in the innkeeper's tax would be deposited.
The bill also would invest in the Double Track Northwest Indiana project and the renovation of the Gary metro station.
Sen. Eddie Melton, Sen. Ryan Mishler and Sen. Ed Charbonneau were authors of the bill.