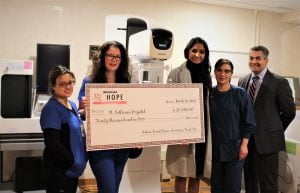 St. Catherine Hospital in East Chicago has been awarded a $20,000 grant for the Pretty in Pink program, an initiative that provides free screening mammograms, diagnostic testing and follow-up care.
This is the fourth year the hospital has received the grant from the Indiana Breast Cancer Awareness Trust.
"We are grateful to the Indiana Breast Cancer Awareness Trust for providing funds that promote health and wellness among uninsured or underinsured individuals in our community," said Leo Correa, CEO at St. Catherine Hospital. "These screenings are important for every woman, regardless of cost or their insurance situation. This grant allows us to expand our reach to women who might otherwise go without breast cancer screenings."
Quality Care Navigator Lupe Arellano, a registered nurse with the Women's Diagnostic Center at St. Catherine Hospital, said the Pretty in Pink program is available to patients who demonstrate financial need, live in Lake or Porter counties, have no health insurance or hold a policy that does not pay for the screening or comes with a high-deductible.
"Many women delay breast mammograms or ultrasound services due to the high costs," said Arellano. "Through 'Pretty in Pink,' the odds for early detection of breast cancer can rise dramatically."
The IBCAT funds are raised through the Indiana Bureau of Motor Vehicles sale of a Breast Cancer Awareness license plate. For each $40 plate sold, a direct tax-deductible donation of $25 is made to the IBCAT for annual, competitively awarded grants.