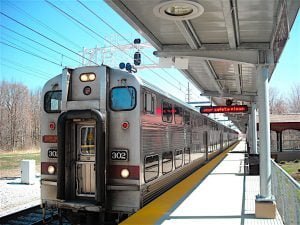 The Northern Indiana Commuter Transportation District, operator of the South Shore Line railroad, has requested the West Lake Corridor Project be included in the New Starts Engineering phase of the Federal Transit Administration's Capital Investment Grant.
NICTD said its request was made in partnership with the Northwest Indiana Regional Development Authority and the Indiana Finance Authority, the project's financial partners. The project's request for federal support in recent days also received backing from U.S. Senators Joe Donnelly, D-Indiana and Todd Young, R-Indiana, and U.S. Rep. Pete Visclosky, D-Gary, who jointly sent a letter of support to the FTA.
The West Lake Corridor Project is an 8-mile extension of the South Shore Line that will provide new passenger rail service in Hammond, Munster, and Dyer. Trains on the new branch line would connect with the existing South Shore Line in north Hammond and ultimately with the Metra Electric District line, with a final stop at Millennium Station in downtown Chicago.
"We are thrilled to reach this critical milestone in the FTA's CIG program," said Michael Noland, President and CEO of NICTD. "This submittal to the FTA is the result of many months of hard work and dedication by the full team at NICTD, RDA, IFA, and FTA, as well as federal, state and local elected officials and community members across Indiana."
Noland said a decision on the request will come sometime next year but didn't offer a specific month.
Since receiving approval from FTA to enter the CIG New Starts Project Development phase for the Project in September 2016, NICTD and the RDA have worked with the FTA to finish each requirement for completion of the New Starts Project Development, including:     
Selection of a locally preferred alternative

Adoption of LPA into the fiscally constrained metropolitan transportation plan

Completion of the NEPA environmental review process

Preparation of sufficient information for FTA to develop a project rating

Obtain commitment of at least 30 percent of the non-CIG funding

Completion of at least 30 percent design and engineering, including documentation at appropriate level of detail
NICTD and the RDA will continue working with state and federal authorities on funding for the second major commuter rail expansion project in the Region, fully double tracking the existing South Shore Line from Gary to Michigan City.
"These projects will be game changers for the Region and the state," said Bill Hanna, President and CEO of the RDA. "By increasing our connectivity to Chicago, the third-largest metro area in the country, commuter rail will drive job creation and economic development here in Northwest Indiana and provide a much better opportunity for residents to compete for high paying jobs in Chicago." 
Combined, West Lake and double tracking are projected to attract approximately $2.3 billion in private investment to Northwest Indiana, and result in an estimated 5,700 new jobs and $3 billion in economic impact by 2048, according to project supporters.
Donnelly said the South Shore West Lake expansion will be a great improvement for the Region's infrastructure, creating new transportation options for residents and supporting continued economic growth.
"I was proud to join my colleagues Senator Young and Representative Visclosky, as well as Governor Holcomb, NICTD, and RDA on this effort," Donnelly said. "It is important the Federal Transit Administration follows the requirements Congress has established for this program and reviews this application in a timely manner so we can get this important project moving forward."
Young said the South Shore West Lake expansion project is important for both jobs and infrastructure development in Northwest Indiana.
"I am delighted this project progressed to this critical juncture in FTA's review process and look forward to continuing my steadfast advocacy for this crucial transit project alongside Governor Holcomb, Representative Visclosky, Senator Donnelly, the RDA, and NICTD," Young said.
Visclosky said this is the next step in creating new jobs and economic activity in Northwest Indiana.
"We would not be able to do this without the steadfast support of NICTD, the RDA, Governor Holcomb, Sen. Donnelly, Sen. Young, the members of our state delegation, and our participating local officials," Visclosky said. "I am grateful for all of their leadership and believe that because of our bipartisan and collective efforts, we are paving the way for future transit and private investments in our region."