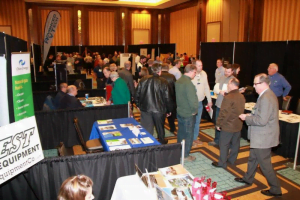 The annual South Shore Clean Cities annual meeting and awards banquet is set for Feb. 26 from 9:30 a.m. to 1:30 p.m. at the Blue Chip Stardust Event Center, 777 Blue Chip Drive in Michigan City.
The event will provide opportunities to learn about the latest green technology and meet with transportation and community leaders.
The program also will include 25 exhibitors showcasing sustainable transportation and clean energy initiatives.
Award winners from the public, private and nonprofit sectors will be recognized for their sustainable transportation and clean energy efforts.
Keynote speaker for the event is Jody Slucker, commercial business manager for the Ford Motor Co.'s Great Lakes Market Area. She will discuss the latest advances in sustainable transportation options.
Slucker leads Ford Motor Co. efforts to grow the company's commercial vehicle market share by working with dealerships, upfitters and commercial customers purchasing large quantities of vehicles. She is responsible for executing many key regional events and produces and manages the largest commercial truck display in the U.S. at the Chicago Auto Show in February at McCormick Place.
There also will be an opportunity to schedule individual meetings with Indiana Department of Environmental Management on the VW Mitigation Trust Program. Reservations are required for meetings and time will be limited. Contact Catherine Yoder at (219) 644-3690 to reserve a time.
For more information or to register for the event, visit the South Shore Clean Cities website.