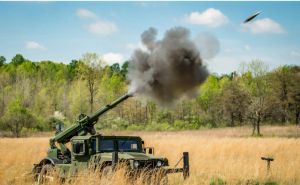 AM General of South Bend, a manufacturer and developer of specialized military and commercial vehicles, has strengthened its partnership with artillery specialist Mandus Group of Rock Island, Ill.
AM General announced Nov. 1 it had made an investment in Mandus Group, an innovator of artillery solutions based on soft recoil technology. AM General said the investment will help accelerate the deployment of the mobile Humvee Hawkeye 105mm self-propelled howitzer weapon system and further vehicle-mounted weapons systems structured around soft recoil technology.
The amount of the investment was not disclosed by AM General.
With its investment in Mandus Group, AM General expands its portfolio of integrated mission systems and further aligns its vehicle offerings with the US Army's top priorities, the company said.  
"Investing in Mandus Group is part of AM General's core mission to address our customer needs and deliver tactically integrated systems that deliver critical capabilities to our customer," said Andy Hove, AM General president and CEO.
Kevin Jansen, Mandus Group president, said AM General's investment, "demonstrates our collective commitment to the Quad Cities region and greatly facilitates cost effective and rapid delivery of the next generation artillery system to the soldier. The marrying of our product capabilities with AM General's global reach allows for an unprecedented leap forward in artillery technology."