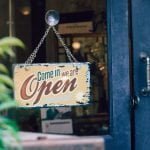 Five South Bend area firms are among 16 from around the state competing for a share of $320,000 in start-up funds in a statewide pitch event presented by Elevate Ventures May 19.
Among the competitors are Lumen Bio LLC, a company launched through University of Notre Dame's Idea Center, whose patented idea could prevent obesity by blocking a protein responsible for fat accumulation and CodeinClass of South Bend, which developed a children's educational program.
The other finalists include Digital Leader Academy, ProstheTech and Viewtique, all of South Bend.
The state pitch contest will be held virtually May 19.
The 16 were chosen from 58 finalists who competed between Feb. 25 and 27 in regional Elevate Nexus Pitch Competitions hosted by The University of Notre Dame, Flagship Enterprise Center at Anderson University and Ivy Tech Community College in Bloomington.
Each finalist competing May 19 has received dollars in previous rounds of the competition. Digital Leader Academy, Lumen Bio, ProstheTech and Viewtique each received $20,000 in seed dollars, while CodeinClass secured an $80,000 investment.
Each company is considered an Elevate Ventures' portfolio business and gains access to Elevate Venture's network of advisors and resources. Indianapolis-based Elevate Ventures is a private venture development organization.