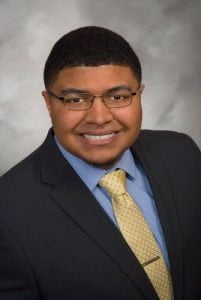 A seasoned professional with a background in workforce development and educational policy will lead efforts to raise availability of work-ready talent in the South Bend-Elkhart area.
Leighton Johnson, was named director of education and workforce for the South Bend-Elkhart Regional Partnership, a collaboration of economic development partners representing 47 communities in Northern Indiana and Southwest Michigan.
"The South Bend – Elkhart Region must develop talent to meet industrial demand and ensure that economic drivers remain globally competitive and new industries can grow and scale," said Regina Emberton, president and CEO of the South Bend-Elkhart Regional Partnership. "Leighton's experience will be instrumental in driving regional efforts to build a supply of qualified, highly-skilled workers needed to sustain an innovation economy."
Johnson, who is an Elkhart Central High School graduate, will lead efforts in executing strategies focused on workforce development to support business growth and lead to increased income levels for the Northern Indiana and Southwest Michigan residents. He will work directly with the partnership's education and workforce committee to coordinate and implement key strategies and will serve as the primary point of contact.
Johnson is a workforce development and education policy professional who brings a diverse skill set from his past work with national organizations including the Dallas County Promise, Boston-based education and workforce group JFF, and The Boston Foundation. Leighton has also worked as a consultant supporting business partnerships and adult apprenticeship programs with the Horizon Education Alliance.