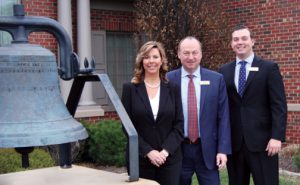 Several businesses from across Northwest and North Central Indiana were among 76 state-based organizations recently recognized for their operational longevity.
Honorees were presented with either the Governor's Century or Half Century Business Award, which recognizes a company for its long-time operational history as well as its service to its employees, community and the state.
"It is an honor to recognize Hoosier business leaders who have been creating quality career opportunities for Hoosiers and running their businesses in Indiana for more than 50 or 100 years," Gov. Holcomb said. "Through a strong dedication to their employees, their businesses and their communities, these companies exemplify the pioneering spirit and perseverance that will keep Indiana on the path to success for centuries to come."
The awards recognize Hoosier businesses that have remained in operation for a minimum of 100 years or 50 consecutive years and have demonstrated a commitment to community service. More than 1,560 Indiana companies have been recognized during the award's 29-year history.
Northwest Indiana Century Award honorees for 2020:
G.W. Berkheimer Co., wholesale distribution, 100 years; Porter County
Geisen Funeral Home, funeral services, 153 years; Lake County
Gluth Brothers Roofing Co., trades, 134 years; Lake County
Swartz, Retson & Co., financial services, 101 years; Lake County
Northwest and North Central Indiana Half Century Award honorees for 2020:
Briggs Agency Inc., insurance, 74 years; Lake County
Bryan's Florist and Greenhouse, retail, 71 years; Lake County
CARSTAR Liss Auto Body, automotive repair, 74 years; Lake County
Deep River Bowmen, sports and recreation, 58 years; Porter County
Ginter Realty, real estate, 55 years; Lake County
Hobart Animal Clinic, veterinary services, 66 years; Lake County
Hubinger Landscaping, landscaping, 52 years; Lake County
INOVA Federal, financial services, 78 years; Elkhart County
Johnson's Farm Produce, agriculture, 63 years; Lake County
Kellen's Florist, retail; 92 years; Lake County
Korellis Roofing, construction/trades, 60 years; Lake County
Lakeshore Bone & Joint Institute, health care, 52 years; Porter County
Larry's Barber Shop, trades, 52 years; Lake County
Mellon Tax Service, financial services, 88 years; Lake County
Monroe Pest Control, pest control, 92 years; Lake County
Music Vendors Inc., retail, 74 years; Lake County
Patti's All-American, sports and recreation, 51 years; Lake County
Paul Heuring Motors, automotive sales, 76 years; Lake County
Rohder Machine & Tool, manufacturing, 52 years; Lake County
Sapper's Market & Greenhouses, retail, 77 years; Lake County
Tri-Electronics, security integration, 58 years; Lake County
Tudor Floors & More Carpet One, retail, 51 years; Porter County
Universal Bearings, manufacturing, 61 years; Marshall County
Van's Industrial Inc., construction/trades, 56 years; Lake County
The Governor's Century and Half Century Business Awards ceremony was originally scheduled for the spring but was cancelled because of the pandemic, the state said. The 2020 award recipients will be invited to participate in the 2021 ceremony.