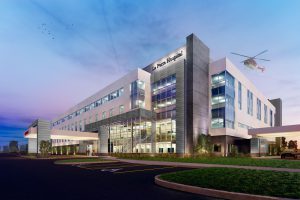 The new $125 million La Porte Hospital is hitting a construction milestone.
Hospital representatives have scheduled a topping out event for 10 a.m. Sept. 12 at the new hospital site, 1331 State St. The event will feature the placing of the final steel beam on the facility's structure.
Prior to the event, the beam will be placed in the current hospital's lobby between Sept. 9 and Sept. 10 for hospital staff to sign before it's put into place.
Hospital officials broke ground on the new 200,000-square-foot hospital in August 2018 to replace the existing facility. The new hospital is part of a $140 million commitment made possible through La Porte Hospital's affiliation with Community Health Systems of Franklin, Tenn. in March 2016.
Community Health Systems operates 118 hospitals across 20 states, including several in Indiana.
The new facility will offer the same complement of services as the current hospital, and have space to accommodate future growth.
A spokesperson for La Porte Hospital said construction is on schedule and the new hospital should open before the end of 2020.
Progress on the hospital construction can be followed online at Updates can be found at newlaportehospital.com.