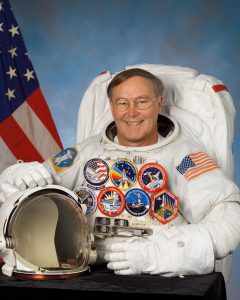 Retired astronaut and Crown Point native Jerry Ross will be the featured presenter at the annual Share the Love event on Feb. 27 at The Center for Visual & Performing Arts in Munster.
A veteran of seven space shuttle missions, Ross logged more than 1,393 hours in space during his NASA career. Ross' appearance is sponsored by the Friends of the Cancer Resource Centre in conjunction with the auxiliaries of Community Hospital, St. Catherine Hospital and St. Mary Medical Center, the luncheon program highlights Ross' career at NASA.
From his childhood in Indiana, through his education at Purdue University and active duty in the U.S. Air Force, Ross charted a path to NASA after overcoming many setbacks to becoming the most launched astronaut in history. An author of three books, he encourages others not to give up too easily in the pursuit of their goals.
Proceeds from the luncheon will benefit the Cancer Resource Centre in Munster.
The luncheon is from 10:30 a.m. until 2 p.m. Reservations are due Feb. 20.
For additional information, contact Sherri Holt at (219) 836-0130 or sholt@comhs.org.