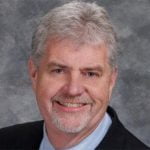 The leader of Merrillville-based Regional Health Systems Mental Health Center is retiring from his post.
The company in a statement said Robert "Bob" Krumwied, president and CEO, will retire at the end of the year and will be succeeded by Bill Trowbridge, president and CEO of Paladin, a Michigan City-based organization that assists people with disabilities.
"Bob's commitment to build life-long resiliency for each individual we serve will resonate for generations to come," said Terry Quinn, chairman of Regional Health Systems board of directors. "He spent his career striving for Hoosiers' highest quality of care in mental health and substance use treatment and advanced (our system's) efforts in treating the whole."
The organization credits Krumwied for bringing together Regional Mental Health Center and its subsidiary corporations, including Geminus Corp., Lake Park Residential Center and The Leading Edge to create Regional Health Systems. Prior to that, Krumwied merged Tri-City Community Mental Health Center and Southlake Mental Health Center into Regional Mental Health Center and supported the expansion of Geminus Head Start services to include Early Head Start programming.
"It has been an honor and privilege leading Regional Health Systems through a transformative journey," said Krumwied, who has worked in mental health field for more than 30 years. "I am enormously proud of the staff at Regional and what we have accomplished for our clients. The network's future prospects is encouraging and I look forward to a smooth transition."
Regional Health Systems Mental Health Center is based in Merrillville. It has locations in Merrillville, East Chicago, Hammond, Highland and Hobart