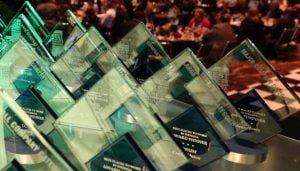 Several businesses from Northwest and North Central Indiana are ranked among the 125 best places to work for in 2020.
Honorees were recognized Aug. 24 by the Indiana Chamber of Commerce, which presents the awards in partnership with the Best Companies Group. Companies named to the 2020 listing were revealed in February but the rankings were released during the recognition event.
The top companies in each category included:
JA Benefits, LLC, a Bedford-based employee benefits company – small category (between 15 and 74 U.S. employees)
Performance Services, Inc., a design build construction firm in Indianapolis – medium category (between 75 and 249 U.S. employees)
Hylant, a family-owned insurance brokerage firm with offices nationwide – large category (between 250 and 999 U.S. employees)
Microsoft, the technology giant with a local office in Indianapolis – major category (1,000 or more U.S. employees)
Organizations that have displayed sustained excellence during the program's history are also awarded Best Places to Work in Indiana Hall of Fame and Pinnacle designations.
Hall of Fame companies have been named a Best Place to Work in Indiana at least 60% of the time in the program's history. Two companies – Edward Jones and Katz, Sapper & Miller – have made the Best Places to Work list all 15 years of the program.
The Pinnacle designation recognizes companies, which finished first in their category three or more times in a five-year period.
Applications for the 2021 Best Places to Work program are open.
The full list of the 2020 Best Places to Work in Indiana companies by ranking is available on the Indiana chamber's website. The Region and North Central Indiana businesses on the list and their rankings in their respective categories include:
Small Companies (15-74 U.S. employees; * Hall of Fame company; rank out of 52)
21. General Insurance Services, Valparaiso
27. Peepers by PeeperSpecs, Michigan City
48. HRP Construction Inc., South Bend
49. Starin Marketing, Inc., Chesterton
51. Community Outreach Advocates Inc., Hammond
Medium Companies (75-249 U.S. employees; * Hall of Fame company; rank out of 40)
39. Gibson, South Bend
Large Companies (250-999 U.S. employees; * Hall of Fame company; rank out of 23)
7. * Centier Bank, Merrillville
Major Companies (1,000+ U.S. employees; * Hall of Fame company ^ Pinnacle Company; ranking out of 10)
2. *^ Edward Jones, statewide
3. * Horseshoe Casino, Hammond