The Regional Development Co. honored those who excel at its annual membership meeting Nov. 3 at Byway Brewing in Hammond.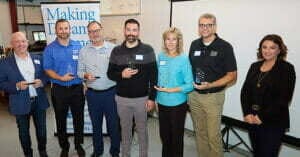 The organization, which partners with local banking institutions to administer SBA 504 loans, honored top referring lenders and individuals.
The U.S. Small Business Administration approved 40 of the RDC's loans, bringing $29 million in SBA funding to Regional companies, according to a press release. Five of those loans went to women-owned businesses and two went to minority-owned businesses. Nine rural businesses also were among those loans.
"Ninety percent financing allows our customers to retain more of their funds for working capital needs, and the long-term fixed interest rate mitigates the risk of increasing payments during the life of the loan," said Erica Dombey, president and executive director of the RDC, in the statement.
The RDC presented the following awards and the loan amounts when noted:
Bank of the Year: Centier Bank, 12 loans, almost $6 million
2022 Lender of the Year: Greg Gottschalk, Centier Bank, $1.8 million, and Amy Kezy and Lydia Post, also of Centier Bank, for referring four loans each to the RDC
Millionaires Club (more than $1 million in loans):
Amy Kezy, Centier Bank
Dan Duncan, Peoples Bank
Keith Leathers, Home State Bank
Bill Winterhaler, Centier Bank
Lydia Post, Centier Bank
Tim Warner, Centier Bank
Dan Shelby, Peoples Bank
Kathy Ireland, Horizon Bank
Sam Boufis, Wintrust Bank
The RDC also funded 28 loans in 2022 for $36 million in capital investments that resulted in the creation of 124 jobs Illinois and Indiana.
The RDC elected their 2022-2023 board of directors.
Officers include:
Chair: Matt Saltanovitz, Indiana Economic Development Corporation
Vice Chair: Steve Kring, Horizon Bank
Secretary: Rex Richards, Valparaiso Economic Development Corporation
Treasurer: Mike Riehle, LaPorte Economic Advancement Partnership
Past Chair: Mike Schneider, Wintrust Bank.
Five new members include:
Megan Applegate from Applegate & Co.
Monica Johnson from CliftonLarsonAllen
Rene Martin from First Merchants Bank
Eric Evans from First Financial Bank
Lori Tubbs from McColly Bennett Commercial Advantage
The RDC also recognized retiring board members Scott Casbon, of First Merchants Bank, with 18 years of service and John Matthiesen, retired CPA, with 11 years of service.