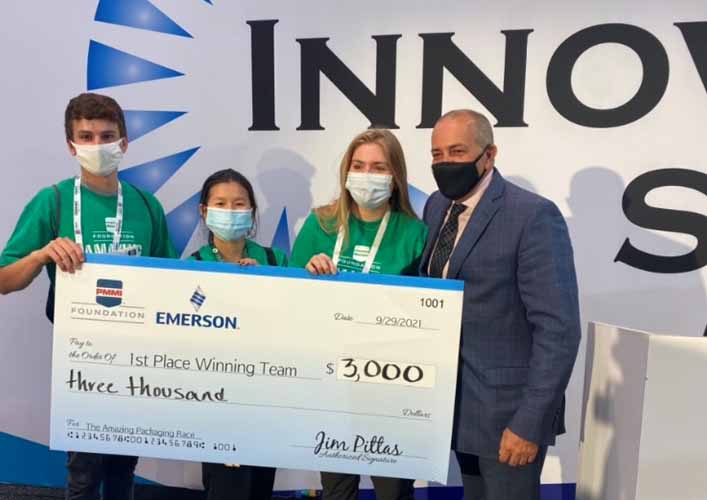 Efforts by Purdue University Northwest student Andrew Smith has shined a national spotlight on the Region.
Smith, a mechatronics engineering technology student at PNW, was part of a three-student team that won the 2021 Amazing Packaging Race at the annual Pack Expo trade show in Las Vegas, presented by the Packaging Machinery Manufacturers Institute. Smith, a fourth-year student at PNW, along with teammates Anna Troutt of Virginia Tech and Serena Pu of California Polytechnic State University, completed a series of challenges across four exhibit halls, which landed them a $3,000 prize.
"My teammates and I were really excited when our team was announced as the winners," said Smith of Griffith who led the team. "The way we scored points throughout the race was by posting every single task we completed to Twitter. We would take a picture with the company and post it along with a thank you message – which scored us extra points."
The competition required competing teams to search the exhibit halls to find the 10 booths with specific tasks to be completed by each team. Tasks included completing math problems related to packaging, executing functionality of a company's machine or learning about a company's machines and services and then answering related questions.
"We try to close the gap between education and the working environment," said Maged Mikhail, associate professor of mechatronics engineering technology at PNW. "Connecting our students to industry by having them attend the Pack Expo and participate in the competition shows them they are capable of solving manufacturing and packaging problems."
The mechatronics engineering technology program at PNW is a hybrid degree program that combines mechanical and electrical engineering technology with computer science.
PNW's collaboration with the Packaging Machinery Manufacturers Institute allows students to take part in industry-led conferences, seminars and trainings, including paying the students' expenses to attend the Pack Expo and participate in the competition. The Pack Expo is an annual trade show that connects consumer goods companies with manufacturing solutions in packaging and processing, this year drawing 1,500 exhibitors and 23,000 attendees.