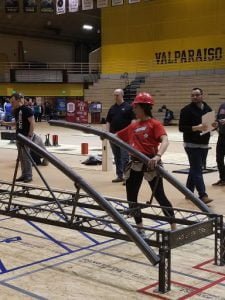 Six Purdue University Northwest civil engineering students are competing in the national finals after placing second overall at the recent American Institute of Steel Construction Student Steel Bridge Great Lakes Regional Competition.
The PNW team will compete for the national title at Southern Illinois University at Carbondale May 31 to June 1.
"This is the very first time the PNW steel bridge team advanced to the national finals," said Chien-Chung Chen, faculty advisor and assistant professor of civil engineering at PNW. "As we are very excited about this great achievement, I also hope it inspires our students to dream big because I truly believe that they can be anyone they want to be and achieve anything they want when they put their hearts into it."
The student steel bridge competition increases students' awareness of real-world engineering issues such as spatial constraints, fabrication processes, project management, and effective teamwork. Each team is given a problem statement and then must design, fabricate, and erect a steel bridge within the given specifications.
"The student steel bridge competition is a challenging project, which requires students to apply their knowledge to design a steel bridge that is safe and can be efficiently constructed," said Chen. "The success of the PNW steel bridge team in the past few years is a testament to our students' talents and hard work."
PNW steel bridge team members include Juan Padilla, Hammond; Santiago Burgos, Hobart; Neil Weber, Schererville; Haley Nowakowski, Portage; Sara Fisch, Griffith; and Trina Cook, Schererville.