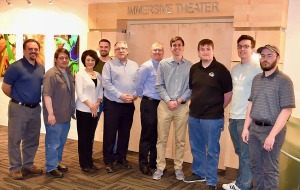 Purdue University Northwest's Center for Innovation through Visualization and Simulation recently was awarded a 2019 – 2020 research grant under the Naval Engineering Education Consortium program, through the Department of the Navy, Naval Surface Warfare Center, Crane Division.
The project, "Visualization of Repair Operations Management for Networked Systems Resilience," will research and develop visualization approaches to help efficiently find solutions for optimizing repair operations and mitigating network failure, for a model-based decision support system.
The research team includes faculty both from Purdue University Northwest and Purdue West Lafayette.
Chenn Zhou, Purdue Northwest CIVS director and principal investigator, and Bin Chen, PNW associate professor, will lead efforts to develop a user-friendly, visualization-based system interface, while West Lafayette faculty Seokcheon Lee and Shimon Nof, will lead software advancement and integration of real-world network component characteristics.
"Because the physical components of networked systems can be subject to breakdown or failure, and digital communications can be disrupted, ensuring the sustainable operation of networked systems means having viable repair strategies in place," Zhou said. "This also calls for decision making about resource use—such as which personnel of all those available would best be dispatched to fix particular problems, and which problems are of the greatest priority to fix.
Purdue University Northwest's CIVS is an interdisciplinary applied research center that combines advanced simulation techniques with 3D visualization and virtual reality/augmented reality/mixed reality technologies to produce innovative solutions in response to real-world industrial, research, and community challenges.