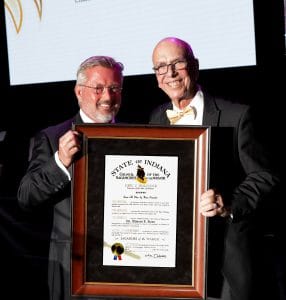 The roster of Hoosiers who have been presented with a Sagamore of the Wabash award now includes Purdue University Northwest Chancellor Thomas Keon.
He was presented the honor for his 10 years of transformational leadership at PNW during the university's 5.75 Roaring Ahead Scholarship Gala on June 10 hosted at the Hard Rock Casino Northern Indiana. That event raised more than $200,000 to support scholarships for current and future PNW students.
"All of us at PNW could not be prouder of Chancellor Keon and his visionary leadership," said Lisa Goodnight, vice chancellor of institutional advancement and professor of communication at PNW. "Chancellor Keon's mark is evident in the numerous accomplishments of our students, faculty, staff and community partners."
The Sagamore of the Wabash is one of the highest civilian honors bestowed by a sitting Indiana governor, which recognizes service to Indiana or the governor. Keon was celebrated for his leadership at PNW that includes significant impacts for the metropolitan university and the region.
"I can't think of a better occasion to recognize Chancellor Thomas Keon for his impactful contributions," said Holcomb. "Dr. Keon, thank you for your decade of transformational leadership on campus and far beyond that border."
Holcomb said Keon's personal success story is an inspiration to him and to PNW students.
"You've built bridges between academia and athletics, and advanced regional and economic development," he said.
Holcomb said Keon's accomplishments, included preparing students for in-demand careers in Indiana, such as nursing, engineering, technology and psychology; the expansion of 17 NCAA Division II teams under Pride athletics; and community partnerships between PNW's resources and local organizations and stakeholders.
Keon was installed in 2012 to lead Purdue Calumet, and later Purdue Northwest, as its chancellor and chief executive officer. He directed the transition from serving a historically part-time student population to providing a full-time student experience featuring assorted academic opportunities, active student life, and NCAA athletics.
Under Keon's leadership, he oversaw the merger of two Purdue-system campuses to form the present Purdue Northwest. PNW also has seen a nearly four-fold increase in sponsored research, the expansion of postgraduate education offerings and both public and private funding for new construction on both campuses.
Notable expansions include the Nils K. Nelson Bioscience Innovation Building, the Commercialization and Manufacturing Excellence Center, the David Roberts Center for Innovation and Design, the PNW Design Studio, the White Lodging Professional Selling Lab, the PNW Community Counseling Center, and the Center for Innovation through Visualization and Simulation.
During Keon's tenure, PNW has grown and has an estimated $746 million annual impact on the Northwest Indiana regional economy. His leadership contributed to PNW securing its largest gift in history, a $12 million donation of the 300-acre Gabis Arboretum at Purdue Northwest.
Most recently, Keon's involvement with a region-wide grant application for the Northwest Indiana Forum's "Ignite the Region" economic development plan helped secure $50 million for Northwest Indiana in Regional Economic Acceleration and Development Initiative (READI) grants.
A $3 million private gift from PNW alumnus David A. Roberts and his wife, Susan, matches an earmarked $5 million in READI funds that will go toward the future Roberts Impact Lab at PNW, a collaborative workspace for education, entrepreneurship and innovation.