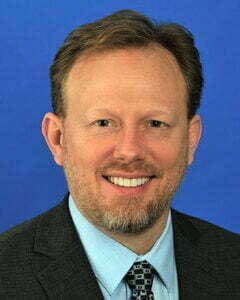 Jody Peacock's 22 years with the Ports of Indiana have led him to the top job. On Feb. 13, the Ports of Indiana Commission named him chief executive officer.
Peacock will oversee three ports on the Ohio River and Lake Michigan, including Burns Harbor. He succeeds Vanta E. Coda II, who was CEO from 2018 to 2022.
Since 2001, Peacock has led various initiatives for the ports, including most recently as senior vice president for business development.
"Jody's extensive experience, customer-focused vision and deep understanding of the organization's economic development mission make him uniquely well qualified for this role," Commission Chairman Micah Vincent said. "We look forward to a bright future as we strive to grow our state port system."
Peacock was part of strategic planning that turned the "small government-funded agency to a self-funded, entrepreneurial enterprise," according to a press release. For more than 10 years, he led the organization's marketing and communications, government relations, corporate affairs and foreign trade program.
"As I look to the future, I am even more excited to build on the relationships we have formed with our customers, our industry partners and community leaders to increase the contributions our ports make to Indiana's economy," Peacock said.
Three Indiana governors also appointed him to two Great Lakes boards. Gov. Eric Holcomb appointed him to the Volkswagen Environmental Mitigation Trust Fund Committee, which distributes money from Indiana's portion of funds from a settlement stemming from a Clean Air Act violation.
Peacock earned a Master of Business Administration from Indiana University Kelley School of Business and a bachelor's degree from Ohio Wesleyan University. He grew up in Union City and lives in Indianapolis.
The port at Burns Harbor is home to more than 30 companies, an industrial park and distribution and manufacturing facilities. The port is making $20 million in upgrades with help from a $9.85 million FASTLANE (Fostering Advancements in Shipping and Transportation for the Long-Term Achievement of National Efficiencies) grant. It also reported increases in grain cargo last year.