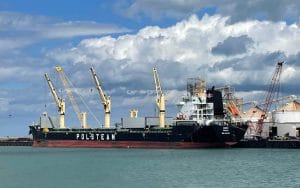 Growth in international cargo coming into the Ports of Indiana-Burns Harbor has landed the organization industry honors.
The U.S. Great Lakes Saint Lawrence Seaway Development Corp. presented its Pacesetter Awards to organizations, which logged international cargo tonnage increases during the 2021 shipping season. The Ports of Indiana-Burns Harbor was one of six ports in the U.S. to land the honor.
The Ports of Indiana-Burns Harbor registered a 135% increase year-over-year increase in international tonnage shipped. During the previous shipping season, the port registered a 77.5% increase from 2020.
A total of 61 international vessels visited the Burns Harbor port during the 2021 shipping season.
"We are thrilled to keep this trend going and receive the Pacesetter Award two years in a row in recognition of the increased international shipping at the Ports of Indiana-Burns Harbor," said Vanta Coda, CEO of the Ports of Indiana. "We saw great growth opportunities in 2021, from steel slabs to coils to salt to foundry coke. Our location on the Great Lakes is a key factor to our success."
Maritime operations at the Port of Indiana-Burns Harbor generate $5.2 billion annually in economic activity and support 30,000 total jobs. Burns Harbor handled 3.39 million tons in 2021, up nearly 50% compared to 2020 and reached its highest annual shipment total since it began operation in 1970.
"I applaud the Ports of Indiana-Burns Harbor for their leadership and commitment to keeping the port thriving," said Craig Middlebrook, deputy administrator of the Saint Lawrence Seaway Development Corp. "Earning the Pacesetter Award is a reflection of the hard work, dedication, and vision of the committed professionals."
The Robert J. Lewis Pacesetter Award was established in 1992 to recognize the achievements of U.S. ports whose activities resulted in increasing international tonnage shipped through the St. Lawrence Seaway, excluding Canada, in comparison to the previous year.
Other 2021 Pacesetter Award recipients included: Port of Chicago (Illinois); Port of Cleveland (Ohio); Detroit/Wayne County Port Authority (Michigan); Erie-Western Pennsylvania Port Authority (Pennsylvania); and Port of Oswego Authority (New York).
More than 237,000 jobs and $35 billion in economic activity are supported annually by movement of various cargoes on the Great Lakes St. Lawrence Seaway System.