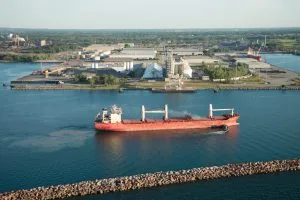 For the second year in a row, the Ports of Indiana-Burns Harbor shipped the most it ever has since it opened in 1970. In 2022, the port handled 3.45 million tons of cargo — 2% more than in 2021.
The Ports of Indiana, which includes Burns Harbor, Jeffersonville and Mount Vernon, handled 11.9 million tons of cargo total — 6% more from 2021.
"Our industry is still recovering from the economic and supply chain challenges, but the continued growth in shipments is a very good sign, and the new business development opportunities we're seeing indicate more growth is ahead," said Ports of Indiana Chief Executive Officer Jody Peacock in a press release.
Burns Harbor's numbers were up thanks, in part, to Metro Ports who helped it handle record numbers of foundry coke, which was up 210%, and minerals, which were up 13%. The International Longshoremen's Association, International Union of Operating Engineers and Federal Marine Terminals also helped with record steel cargoes, which were up by 13%.
In a meeting March 2, the Ports of Indiana commission also approved more than $20 million to expand and maintain the ports.
"Our Commissioners have shown tremendous vision and commitment to supporting growth of Indiana's economy by approving more than $20 million in projects that will immediately expand Ports of Indiana's capabilities and help our customers grow," Peacock said.
Projects at Burns Harbor will include construction of three shipping berths and a bulk warehouse.
The commission will meet again June 15 in Mount Vernon and Sept. 14 in Burns Harbor.