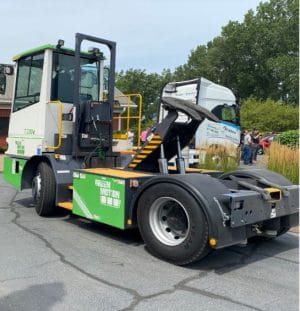 Semi-trucks as well as an assortment of power equipment are a common sight across the Ports of Indiana-Burns Harbor, transporting everything from raw materials to massive mechanical components.
With port operators pushing initiatives to achieve a greener, energy-resilient and sustainable facility, increased use of electric vehicles may be a step toward that goal. On Aug. 2, the port hosted an open house which featured a variety of electric-powered trucks, which guests examined and were given opportunities to take a ride.
Port officials hope the demonstration would encourage port tenants to consider trying out an all-electric truck in their operation.
"Ports are all about transportation and logistical connections," said Andrea Hermer, Ports of Indiana's chief operating officer. "We are looking at electricity and other sources of energy in the same way – critical connections to port operations and the future."
Port officials said an assortment of heavy-duty trucks, yard jockeys and forklifts are available to port operators, businesses and trucking companies to try out in their daily operations.
During the open house, Class 8 electric semis from Peterbilt and Nikola and an electric yard tractor from manufacturer MAFI, were the featured vehicles.
The Ports of Indiana is collaborating with Current Trucking, who along with Northern Indiana Public Service Co., is providing the vehicles, chargers and operational support during the pilot. NIPSCO is supplying power to support industrial-grade DC fast chargers at the port.
"We are showcasing the best available heavy-haul electrification technology from the industry's leading manufacturers," said Pip Decker, founder of New Jersey-based Current Trucking and project team member. "We hope to demonstrate to operators how e-mobility adoption reduces total operating costs."