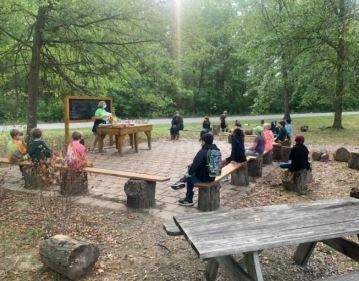 Discovery Charter School in Porter is among a short of list of schools and districts nationally being recognized this year for their efforts to reduce its environmental impact.
The U.S. Department of Education announced April 22 its 2021 Green Ribbon Schools, District Sustainability Awardees, and Postsecondary Sustainability Awardees. Across the country, 27 schools, three early learning centers, five districts, and five postsecondary institutions are being honored for their efforts to reduce environmental impact and utility costs, improve health and wellness, and ensure effective sustainability education.
Paramount Brookside, a K-8 public charter school in Indianapolis, is the other Indiana honoree.
"The pandemic has driven home the vital importance of school buildings and grounds; health and wellness; and hands-on authentic learning," said Education Secretary Miguel Cardona. "Not surprisingly, many of our honorees support students in underserved communities, proving once again that green schools' practices, encompassing best practices school operations, health, and environmental learning, are critical tools to advance equity."
The honorees were named from a pool of candidates nominated by 20 states. The selectees include 24 public schools – among them, five charter schools and one magnet school – as well as three nonpublic schools. More than half of the 2021 honorees are in communities where over 40 percent of the student body are eligible for free and reduced lunch.
The list of 2021 honorees and a report highlighting each honoree is available on the Department of Education's website.