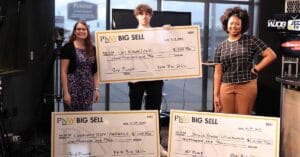 Three finalists in the 12th annual Purdue University Northwest Big Sell competition took home the top prizes.
WJOB and JEDtv featured 12 finalists giving six-minute pitches to a three-member panel of judges on April 29. Three winners were chosen and earned a piece of $14,000 in prizes.
Jannice Newson, $10,000, for Lillian Augusta, a plant-based hair extension company.
Luis Alvear, $3,000, for AtoB, a software platform for finding carpooling opportunities.
Courtney Stern, $1,000, Park Watch, an app that allows drivers to share on-street parking spots.
"We are so excited to see these companies looking to scale their businesses within our entrepreneurship ecosystem," said Alexandra Moran, clinical instructor of entrepreneurship at PNW, in a press release. The diversity of founders and their companies mirrors our diverse community and we look forward to supporting them as they continue to raise capital."
Big Sell judges included Nassim Abdi, co-founder of StoryBolt; Kristin Burton, assistant professor of entrepreneurship at PNW; and Stewart McMillan, founder of the Multi Agency Academic Cooperative (MAAC) Foundation.