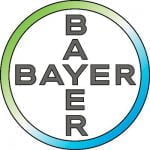 Bayer says Indiana remains an important location for the company even after it shuts down its customer logistics service center in Mishawaka and eliminates almost 200 jobs. 
The German pharmaceutical and life sciences company recently announced it will shutter the facility gradually over an 18-month period, "to provide ample time for employees and operations to transition smoothly and to ensure that we continue to serve our customers and businesses effectively." The company said in a statement that the move impacts 194 jobs in Mishawaka.
Chris Loder, a spokesman for Bayer U.S., said other company operations around Indiana are not affected by the Mishawaka closure. Indiana remains an important state for Bayer, he said.
After operations cease in Mishawaka, the company will still employ a total of 181 people, spread across six sites around the state, as well as another 200 or more seasonal workers, Loder said. These people work in research and development at sites in Evansville and West Lafayette as well as in product supply in Remington and Windfall and in administrative offices for its crop science business in Greensburg and Monticello.
Bayer said it recognizes its decision to close its Mishawaka site also affects the community. The company said it, "will honor (its) commitments and continue to support important groups like non-profits and other charitable organizations in the region at the same level in 2019 and 2020."
Bayer said the Mishawka site has played an important role in the company's history since 1978, noting the decision to close the site will allow it to remain competitive and successful in the marketplace as it moves away from a local service center model to a more global integrated operation. The company said the move should reduce complexity, improve efficiency and enhance customer service.
"Most of the employees at the Mishawaka/Edison Lakes site are part of Bayer's customer logistics service center, which is responsible for the end-to-end customer experience — from the starting point of taking customer orders, through to delivery and final payment — for our consumer health and pharmaceuticals businesses," the company said.  "This is certainly a difficult decision given the impact it will have on our colleagues and their families, and the important role the site has played in our company's history. We have an extremely talented workforce in Mishawaka/Edison Lakes and a proud and rich history. We thank our colleagues for their hard work and dedication over the years."