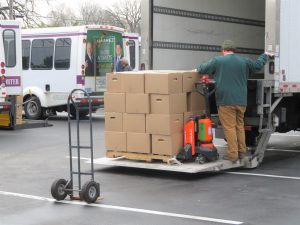 In the weeks since the first coronavirus cases were reported in Indiana, donations have poured in and manufacturers have boosted production of personal protective gear for those on the frontlines fighting the pandemic.
The Indiana Economic Development Corp. said April 24 it secured commitments for more than 6.3 million pieces of personal protective equipment – up from 2.6 million last reported on April 13 – for hospitals, first responders, long-term care facilities and health care providers treating COVID-19 patients.
To date, more than 1.17 million items have been delivered to the Indiana State Department of Health for distribution. Of these, more than 2.9 million items, including face masks, face shields, gloves, gowns, goggles and bottles of hand sanitizer, are being made and sourced by 18 Indiana manufacturers across the state.
Indiana businesses and organizations continue to donate critical services and supplies as well, with PPE donations now totaling 530,694 – up from 440,000, the state said. In total, the state has secured more than: 2.4 million surgical masks, 1.2 million respirator masks, 963,000 face shields, 720,000 gloves, 143,000 gowns, 10,000 goggles, and 206,000 two-ounce bottles and 80,000 gallons of hand sanitizer through purchases and donations.
Midwest Express Clinic providing COVID-19 antibody testing
Midwest Express Clinic, which has locations in Schererville, Crown Point, Dyer, Munster, Merrillville and Hammond, is offering COVID-19 antibody testing at its clinics.
Most insurance is accepted, including Medicare and Medicaid.
Each clinic has testing supplies. Results are available within three to four days.
Patients must not show symptoms for a minimum of seven days for the antibody test, clinic representatives said. MEC recommends waiting for 14 days.
COVID-19 swab testing also is being done in its Munster, Schererville, Crown Point and Merrillville offices. It's available to anyone experiencing symptoms, as well as front-line, critical care, first responders and essential workers.
Midwest Express Clinics is conducting about 300 swab tests daily and has completed about 10,000 in recent weeks.
La Porte Hospital performing virus testing in-house
La Porte Hospital is processing COVID-19 tests on-site. Hospital officials said it was using another process to collect a specimen from patients suspected of having the coronavirus and sending it to outside labs for analysis and results.
Patients must have a physician order to be test.
The hospital has obtained testing kits that work with the hospital's FDA-approved testing equipment. In-house testing allows results to be known within 24 hours versus between two and six days when outside labs were used.
La Porte Hospital also is performing tests for other Region hospitals.
Hospital officials said there still is a shortage of testing kits, which means some tests it conducts will continue to be sent to outside labs for analysis.
Businesses contribute to cause
Horizon Bank of Michigan City has bolstered the Franciscan Health Foundation's efforts to fight the coronavirus in Northwest Indiana. The bank has pledged $12,500 to the new Franciscan Preparedness & Response Fund. The donation will be a match to local gifts provided to the fund, which helps address the urgent need for supplies and equipment in Franciscan facilities, Franciscan officials said.
The First Financial Foundation has pledged $41,000 to organizations serving Northwest Indiana as part of its $1 million pledge to fund COVID-19 relief efforts. Region groups receiving funds include the Lake Area United Way, Food Bank of Northwest Indiana, Meals on Wheels of Northwest Indiana and the Jasper Newton Foundation.