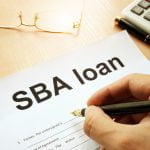 Munster-based Peoples Bank recently began funding nearly $75 million in loans under the Small Business Administration's Paycheck Protection Program as part of the CARES Act to assist the nation through the COVID-19 pandemic.
Peoples Bank approved 480 applications totaling $74.8 million, with an average loan size of $154,000. These loans were approved under the first round of $349 billion in funding which ran out April 16, but additional dollars are expected soon.
The loans assisted Region businesses retain 8,604 employees, Peoples Bank said.
"We are here for our customers and community in the good times and the bad, and that's what our core value of stability is all about," said Benjamin Bochnowski, president and chief executive officer of Peoples Bank.
Todd Scheub, executive vice president, chief banking officer at Peoples Bank said demand for the loans was high.
On April 16, the $349 billion authorized for the PPP program was exhausted, and the SBA is no longer accepting applications for these loans. "Only Congress can reauthorize more funds into this program, as there is additional need in our community" said Bochnowski. "It is my sincere hope that Congress puts aside partisan differences so that community banks can continue to get this much needed relief to businesses across the nation."