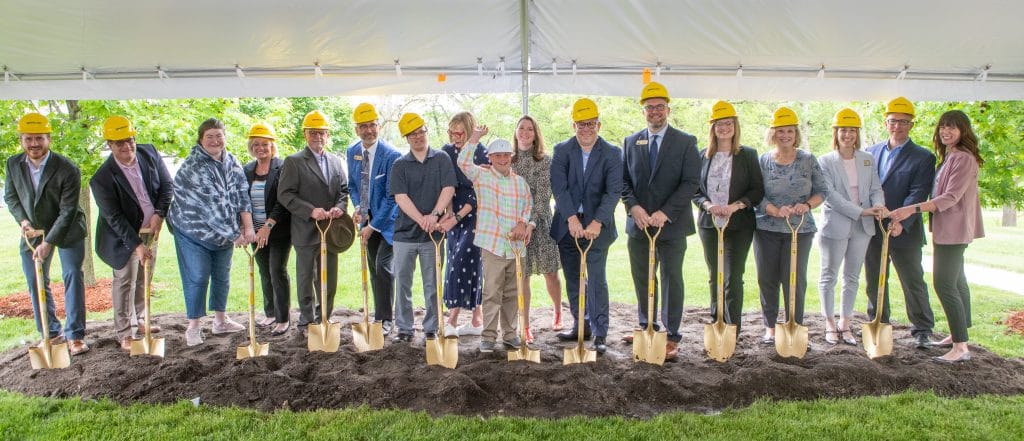 Opportunity Enterprises Inc. is a step closer to expanding its capacity to care for people with disabilities and provide additional relief to the family members who care for them.
The Valparaiso-based organization was joined by community members and business representatives May 25 for a groundbreaking on its new 16,000-square-foot Lakeside Respite Center on 158 acres of wooded property it owns on Lake Eliza in Porter County. The project was announced in September.
"The truth is OE has outgrown our current respite spaces, yet the need for such services continues to grow and the waiting list for respite care is long," said Neil Samahon, president/CEO of Opportunity Enterprises.
Opportunity Enterprises of Valparaiso serves individuals with disabilities throughout Northwest Indiana though its facilities and programs in Lake, Porter and LaPorte counties. The new center will feature a large kitchen, multiple living rooms for relaxing, a multi-sensory room, wings designated for children and adults, and 21 beds for overnight visits.
The building will be accessible – complete with a fully accessible treehouse that will sit in the woods near the back of the building.

Representatives say the additional building is needed to meet growing demand.
Opportunity Enterprises operates two residential respite homes, which provide relief to people caring for a loved one with a disability. Not only have these homes provided support to caregivers, but they are places for children and adults to go where they are not only accepted but celebrated, representatives said.
The organization continues to raise funds for its respite center building project. Anonymous donors provided $750,000 for a dollar-for-dollar matching gift, which boosted funds raised to 85% of the $6.7 million goal, the organization said.
Berglund Construction, which is based in Chicago but has a Chesterton office, serves as the capital campaign's contractor.
"For our company, it is more than just building a facility, it is building a community where valuable services will provide so many families much needed relief, independence and community," said Jeff Berglund, vice president of Berglund Construction.