Like most people, farmers are concerned about increasing interest rates and inflation, too. From rising costs of supplies to increases in borrowing money, the cost of growing food is top of mind for those in the agricultural business.
In the Nov. 1 Purdue University/CME Group Ag Economy Barometer, a dip in overall financial performance was the primary driver of weakening sentiment among the 400 telephone survey respondents.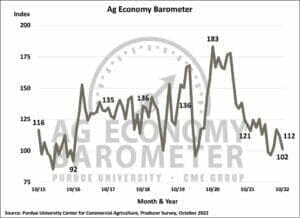 The Current Conditions Index dropped by 8 points to 101, and the Future Expectations Index dropped 11 points to 102. This month's survey was conducted between Oct. 10-14.
Rising interest rates weren't the only driver of concern. Shipping conditions along the Mississippi River are less than ideal. Record-low water levels along the 270 miles of river are impacting barge traffic, as reported by many media outlets. Farmers are hopeful predicted rain this fall might allow for some relief.
Other concerns were reflected in the Farm Financial Performance Index, which fell by 13 points to 86. It highlights farmers' concerns about high operating costs and weaker commodity prices.
As for next year, respondents said they were most worried about:
High upfront costs: more than 40%
Rising interest rates: 21%
Lower output prices: 13%
Input availability: 13%
That means most farmers won't be making big investments anytime soon. The Farm Capital Investment Index improved by 7 points to 38 after reaching a record low last month. Forty percent of respondents who said that now is a bad time to investment in their operations cited rising prices for machinery and construction as the primary reason for their negative outlook. Other reasons included rising interest rates at 20% and being unsure of profits at 17%.
One bright spot was the short- and long-term outlook for the value of farmland. The Short-Term Farmland Value Expectation Index rose 10 points to 133, with the Long-Term Farmland Value Index rising 5 points to 144.
According to the Purdue Farmland Value and Cash Rents Survey conducted June 2021 to June 2022, Indiana farmland prices are soaring. Land in peak shape averaged $12,808 per acre and mid-quality land $10,598 per acre. That puts both above a 30% increase in value.
"However, rising interest rates are associated with increased costs of borrowing, which put downward pressure on purchases financed through mortgages," said Todd Kuethe, Purdue associate professor and the Schrader Endowed Chair in Farmland Economics and survey author, in a press release.
The Ag Economy Barometer's November findings did show its short- and long-term indexes were still much lower than October 2021.
Since Congress is considering a new Farm Bill in 2023, the Ag Economy Barometer included questions about the most important farm policies. Interest rates were a the top of the list with 36%, crop insurance program at 27% and climate policy at 16%.
To learn more about the Ag Economy Barometer, visit ag.purdue.edu.