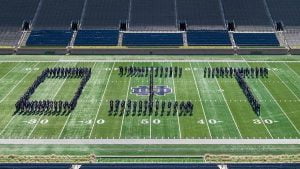 IDG's Computerworld 2018 list of the Best Places to Work in Information Technology ranked the University of Notre Dame 15 out of the top 100 employers.
The annual list recognizes the 100 top organizations that challenge their IT staffs while providing great benefits and compensation. Notre Dame will be included in coverage on Computerworld.com along with results from the 2018 Best Places to Work in IT survey.
The Office of Information Technologies at Notre Dame delivers IT services for students, faculty and staff throughout the university.
The Best Places to Work in IT list is an annual ranking of the top 100 work environments for technology professionals by IDG's Computerworld. The list is based on a comprehensive questionnaire regarding company offerings in benefits, career development, training and retention. It also includes extensive surveys from lT workers, which factor heavily in determining the rankings.