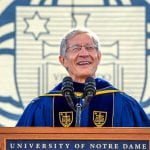 Thomas Burish, provost at the University of Notre Dame, will step down as from his post at the end of his current five-year term on July 1, 2020.
Burish has served as Notre Dame's provost since 2005. The position is the university's second-ranking officer behind the president and oversees the university's faculty, colleges, schools, institutes and libraries, as well as functions such as admissions, student advising and financial aid.
"It is difficult to overstate the positive impact Tom has had on our University as provost," said John Brennan, university president. "For nearly 15 years, he has guided the strategy and investments that enhanced our faculty and strengthened our scholarship to the great benefit of our undergraduate and graduate students, created new research programs and partnerships, and significantly advanced Notre Dame."
Notre Dame will conduct a worldwide search for a new provost. The university did not establish a timeline.
A native of Peshtigo, Wis., Burish graduated summa cum laude from Notre Dame in 1972 and earned master's and doctoral degrees in psychology and clinical psychology from the University of Kansas. Prior to returning to Notre Dame as provost in July 2005, Burish was president of Washington and Lee University for three years.
He and his wife, Pamela, have two sons and four grandchildren.