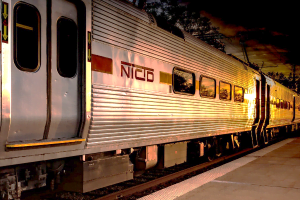 Another hurdle has been cleared in the process to enhance passenger rail service in Northern Indiana.
The Northern Indiana Commuter Transportation District, operator of the South Shore Line, announced Feb. 11 that it received approval from the Federal Transportation Administration to begin final engineering for its Double Track Northwest Indiana Project. Those involved with the project have said construction could begin sometime in 2021 and continue through 2023.
"We are thrilled to announce that the Double Track Northwest Indiana project has reached this critical milestone in the FTA's Capital Investment Grant program," said Michael Noland, president and CEO of NICTD. "The continued hard work of the project team and the full support of Governor Holcomb, the Indiana General Assembly, and our Hoosier congressional delegation is reflected in reaching this critical milestone."
The project calls for improvements to more than 26 miles of track from Gary to Michigan City. It includes installation of a second mainline track, improvements at five stations, expansion of parking lots for more than 1,300 new parking spaces, and nine new platforms.
Safety improvements also will be made in Michigan City, where the rail will be separated from the roadway and 21 at-grade crossings will be closed, according to NICTD. The project is expected to more than double existing South Shore Line ridership and reduce travel times for all riders travelling east of Gary.
The current Indiana budget doubles the state's investment in Northwest Indiana rail by dedicating $185 million more to projects and an additional $20 million in a contingency fund, NICTD said. The Double Track Project is a collaborative effort between the FTA, Michigan City and LaPorte County, South Bend and St. Joseph County, Northwest Indiana Regional Development Authority and the Indiana Finance Authority.
As work progresses with the Double Track Project, NICTD, the RDA and the IFA continue working with state and federal authorities on the West Lake Corridor Project, which involves construction of a new eight-mile line extending from Hammond on the north to Dyer on the south, with four new stations.
Project leaders estimate the Double Track NWI and West Lake Corridor projects could attract up to $2.3 billion in private investment to Northwest Indiana and bring in 6,000 new jobs and $3 billion in economic impact by 2048.
"The Double Track project is critical to reducing commuting time to Chicago and activating the potential for transformational development in the Region," said Bill Hanna, president and CEO of the RDA. "Distance is measured in time, and the faster and more convenient we make it to commute from here, the greater the return on investment for the state and the taxpayers of northwest Indiana."