NiSource announced Nov. 7 that it plans to sell a minority interest in its NIPSCO business.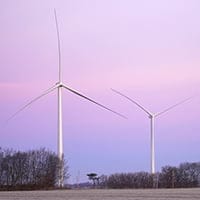 CEO Lloyd Yates said the sale won't impact their commitment to NIPSCO and its customers.
"A minority sale provides a financially efficient opportunity to strengthen our balance sheet and provides flexibility to finance our growth investments as we continue to invest in and serve our customers," Yates said.
NiSource is the parent company of NIPSCO, which serves about 850,000 natural gas and 480,000 electrical customers across 32 counties in Northern Indiana.
The sale is expected to "minimize future external capital market needs and is expected to eliminate all equity needs until at least 2025," the release said.
The action comes as part of a business review that was initiated in February.
The company also announced a plan that will create from 6 to 8% growth in net operating earnings through 2027. The extended growth plan includes about $15 billion in investments from 2023 through 2027, which will include increases in renewable energy and modernizing infrastructure.
The review also resulted in an update to its sustainability goal of net zero Scope 1 and 2 greenhouse gas emissions by 2040. Scope 1 includes direct emissions and Scope 2 comes from energy purchased by a company, according to ClimatePartner.
NiSource said emissions have already been reduced by 58% in Scope 1 since 2005, with a target of 90% by 2030. The company plans to close its last coal-fired plants between 2026 and 2028. The company said it also has significantly reduced its methane emissions by replacing aging infrastructure. The target is a 50% reduction by 2025.
"As we develop innovative, new pathways to reduce emissions — including hydrogen, renewable natural gas and emerging technologies — we will continue our ongoing infrastructure modernization, renewable electric generation investments and other strategies responsible for the significant reduction in emissions we have already achieved," Yates said.
NiSource also announced third quarter results, up from $49.4 million net income available in 2021 to $52 million in 2022.
"Our continued investments in renewable generation and infrastructure modernization provide predictable earnings growth and deliver safe, reliable energy that drives value for our customers," Yates said.