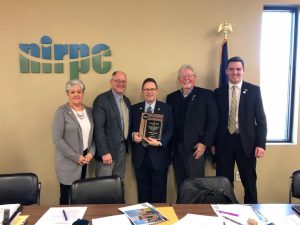 The Northwestern Indiana Regional Planning Commission recently elected new officers and named new executive board members.
Michael Griffin, clerk-treasure of the town of Highland, was elected commission chair for 2020. Griffin previously served as chairman in 2017. George Topoll, Union Township trustee, was elected vice chairman. Other officers include Justin Kiel, La Crosse town council president, secretary and Richard Hardaway, Merrillville councilman, treasurer.
Executive board members include: representing Lake County, Will Farrellbegg, Lowell councilman and Tom McDermott, mayor of Hammond; representing LaPorte County, Sheila Matias, county commissioner and LaPorte Mayor Tom Dermody; representing Porter County, James Ton, Chesterton councilman and Greg Stinson, Porter councilman.
State Rep. 4th Dist. Ed Soliday, will continue serving as Gov. Eric Holcomb's appointee to the commission. Diane Noll, Wanatah clerk-treasurer will serve as immediate past president.
New commission members include: Bill Carroll, mayor of Lake Station; Sue Lynch, mayor of Portage; Janet Beck, Pottawattomie Park councilwoman; Eric Hull, Burns Harbor councilman; Wendy Mis Munster clerk-treasurer; David Peeler, Hebron councilman; and Daina Dumbrys, Michiana Shores councilwoman. Mary Tanis, Dyer councilwoman was re-appointed to the commission.
NIRPC presented its Norman Tufford Award, which given to a board member for exceptional dedication and service to the organization, to Geof Benson, town councilman from Beverly Shores. Benson has served as a NIRPC commissioner since 2008 and served as chair of the commission in 2012 and 2018.
Benson recently served as president of the National Association of Regional Councils. Norman Tufford was the first executive director of NIRPC from 1966 to 1985.