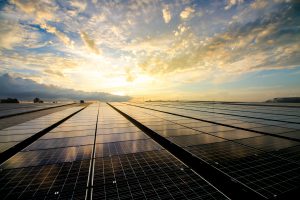 Merrillville-based Northern Indiana Public Service Co. is taking another step to switch to green power generation systems.
NIPSCO announced Oct. 21 it finalized three build transfer agreements with subsidiaries of NextEra Energy Resources, LLC, an energy generator, and power storage firm, which utilizes green sources including wind and solar, to bring an additional 900 megawatts to Indiana with the Dunns Bridge I, Dunns Bridge II and Cavalry Solar Energy Centers. The energy from these three solar projects should provide power for 270,000 homes according to company estimates.
The move is part of NIPSCO's long-term Your Energy, Your Future initiative, which seeks power generation from more environmentally friendly sources. NIPSCO also is working toward having no power generation from coal-fired plants by 2028.
"The addition of these three solar projects and associated battery storage is an investment in the future of Indiana and the future of NIPSCO, as we deliver on our promise of bringing safe, reliable and affordable energy to our customers," said Mike Hooper, NIPSCO president. "Renewable technology continues to advance, and we are proud to be working with NextEra Energy Resources on the Dunns Bridge and Cavalry solar projects as we continue to implement our 'Your Energy, Your Future' plan."
NIPSCO said the latest solar projects it is involved with are expected to begin construction in 2022 and should be operational in 2022 and 2023. NextEra Energy Resources will construct the solar farms, and NIPSCO will enter into joint ventures to own and operate and maintain a portion of these green power generating centers.
The Indiana-based Dunns Bridge I, Dunns Bridge II and Cavalry solar projects were selected through a Request for Proposal solicitation by NIPSCO.
NIPSCO said the additional solar generating capacity will be added to existing power generating portfolio, which includes natural gas and hydroelectric generation. The company said its move to cleaner energy generation contributes to a more affordable, reliable and sustainable energy mix, which could save its customers $4 billion over the long term.
NIPSCO previously announced five other renewable projects. Two of the wind projects are near completion, including the Jordan Creek Wind Energy Center, a subsidiary of NextEra Energy Resources. NIPSCO will purchase the power directly from Jordan Creek Wind.
NIPSCO serves approximately 820,000 natural gas and 470,000 electric customers across 32 counties in northern Indiana.