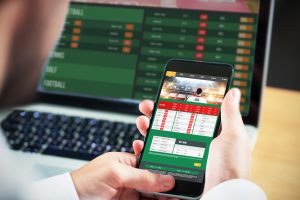 The NFL playoffs generated a lot of interest among Indiana sports enthusiasts in January.
PlayIndiana.com reported the state's sportsbooks pulled in $500.1 million in wagers, which included $458.3 million in bets made online. January's total was up 8.0% from $463 million in December and an increase of 43.6% from $348.2 million in January 2021.
January sportsbooks wagering raised $3.4 million in tax revenue for the state. PlayIndiana.com said sports betting has generated $49.5 million for the state since its launch in 2019.
"Sportsbooks benefited greatly from the extra week of regular-season games, and the expanded NFL playoffs were a winner for sportsbooks," said Jake Garza, lead analyst for PlayIndiana.com. "The month will likely be the highwater mark for the foreseeable future, unless the NCAA Tournament can draw comparably huge numbers, too."
Indiana sports wagering generated $29.3 million in revenue, up 12.6% from $26 million in December and down 7.5% from $31.7 million in January 2021.
DraftKings topped the online market with $162.1 million in January wagers, which yielded $9.5 million in revenue. FanDuel was second with $127.2 million in online wagering, producing $7.6 million in revenue.
PlayIndiana.com said Hollywood Lawrenceburg benefited greatly from the Cincinnati Bengals' march to the Super Bowl, generating $13.2 million in wagers.