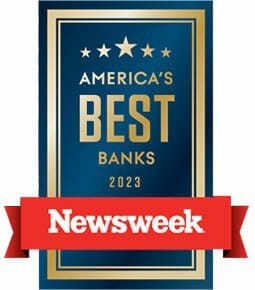 First Merchants Bank landed the top spot on Newsweek's 2023 America's Best Banks list. For the third year in a row, the bank earned the Best Big Bank 2023 award for Indiana.
"It is humbling to receive acknowledgment for the alignment of our strategic initiatives, affirming our enhancement to the financial wellness of the diverse communities we serve," said Mark Hardwick, CEO for First Merchants Bank, in a press release.
Newsweek gathered information on more than 4,888 financial institutions in partnership with LendingTree to determine the rankings. They were assessed on more than 30 factors, including overall health of the bank, customer service, digital and branch locations, account and loan options, interest rate offerings and fees.
"First Merchants is filled with a collection of dynamic colleagues who share a passion for 'helping you prosper,'" said Mike Stewart, president of First Merchants Bank, in a press release. "Our attentive community bank feel and robust tools like a top-rated mobile app and our innovative personal finance tool deliver customer satisfaction, as this recognition suggests."
Best Big Bank candidates needed to have one branch per 100,000 residents and at least $1 billion in assets. First Merchants has 75 branches in Indiana, according to Newsweek.
Merchants Bank of Indiana, which is based in Indianapolis, earned the Best Money Market Account for a bank. A recent interest of 3.82% was reported and a minimum of $50 to open.